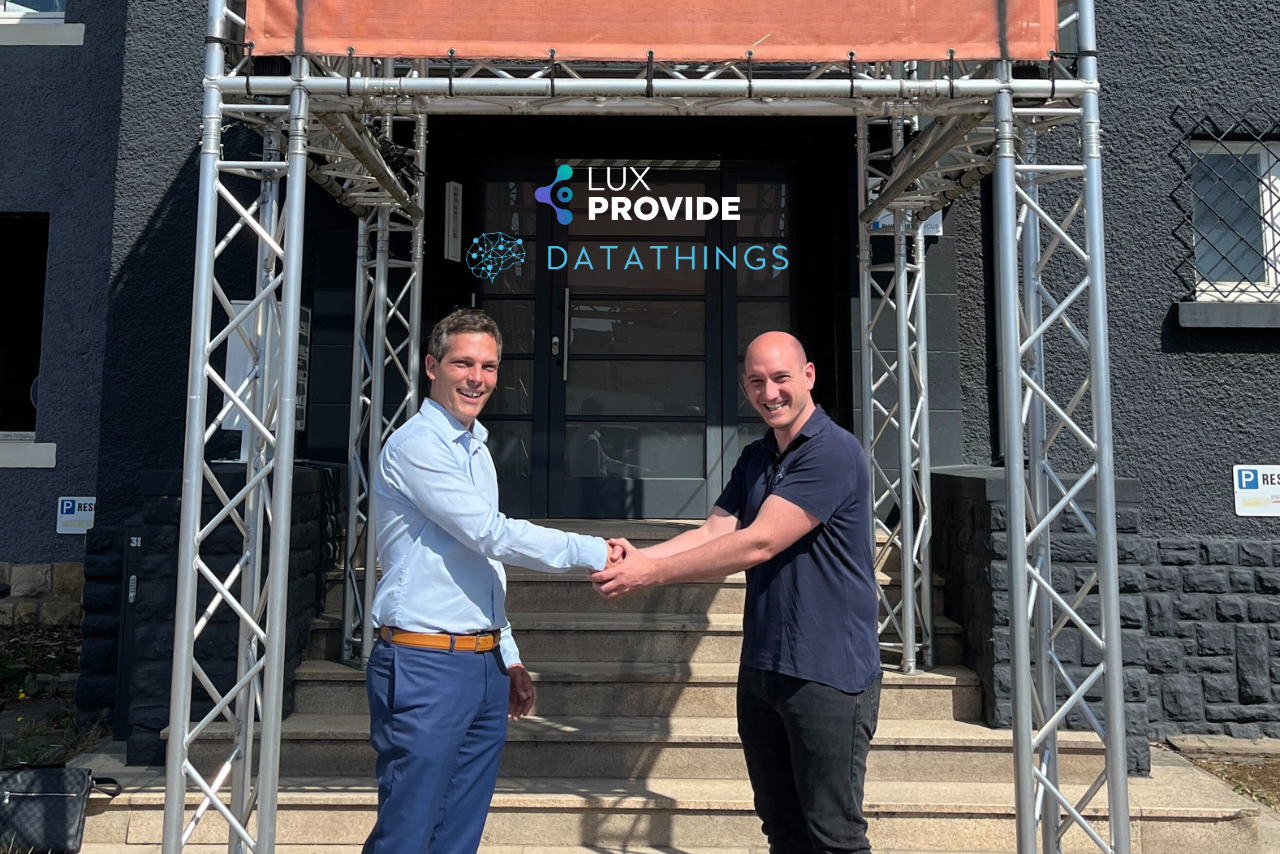 LuxProvide and DataThings partner to offer customers seamless and efficient scaling
Bissen, Luxembourg, July 13, 2023 – LuxProvide, a leading provider of high-performance computing solutions, and DataThings, a cutting-edge technology company specializing in data analytics, are thrilled to announce their new business partnership. This collaboration aims to facilitate scalability for both organizations and deliver quick returns on investment for their valued customers.
Scaling Up Made Easy
As two key players in their respective fields, LuxProvide and DataThings recognize the importance of scalability in a rapidly evolving digital landscape. By joining forces, they aim to leverage their expertise and resources to ensure that businesses can easily scale up their operations while enjoying the strictest data sovereignty measures, all data being stored locally in Luxembourg.
Harnessing the Power of MeluXina
The technical team at LuxProvide is excited to support DataThings in optimizing its technology – GreyCat – for enhanced performance. Through this partnership, DataThings will gain access to the massive processing power of the Meluxina supercomputer, enabling them to scale their client's applications further and capitalize on its capabilities. LuxProvide's team of experts will ensure that DataThings technology – GreyCat – seamlessly integrates with the supercomputer, making it fully ready for expanded usage.
Future-Proofing Solutions
One of the significant advantages of this partnership is the ability for customers to experience a quick return on investment, even if their current solution does not require a supercomputing infrastructure. As businesses grow and evolve, their needs change. With GreyCat made ready for supercomputing, customers can rest assured that their solution will be fully equipped to handle future demands. GreyCat is made to do more with the resources available, pushing infrastructures to their limits before scaling. Combining DataThings relentless efforts for efficiency and the environment-friendly supercomputer MeluXina will enable the processing of larger datasets, and conduct real-time analytics and deeper simulations while ensuring environmental sustainability.
Supporting Testing and Experimentation
LuxProvide and DataThings are also committed to supporting and guiding customers who wish to test and experiment with new solutions. This collaborative partnership enables quick prototyping and the evaluation of return on investment through small-scale proof-of-concept setups, acting as an experimental laboratory for innovative ideas.
Deploying the first project on MeluXina
LuxProvide and DataThings are working on a project for one of their customers. This project will involve deploying the customer's product on the MeluXina supercomputer, allowing them to experience the advanced capabilities firsthand.
About LuxProvide
LuxProvide is a leading provider of high-performance computing solutions in Luxembourg. LuxProvide offers a unique platform that combines data science and supercomputing resources delivering insights for better decision-making. To learn more, please visit www.luxprovide.lu
About DataThings
By leveraging artificial intelligence and machine learning, DataThings helps businesses unlock the true potential of their data. GreyCat is DataThings cutting-edge technology: a unique solution integrating graph database, time series, and machine learning framework, to create dedicated Digital Twins with artificial intelligence. To find out more, please visit www.datathings.com
This partnership between LuxProvide and DataThings marks an exciting new chapter for businesses looking to scale up and future-proof their solutions. With the support of the LuxProvide technical team and access to the MeluXina supercomputer, DataThings technology is ready to empower businesses in embracing the digital revolution. Whether it's immediate scalability or experimentation for future growth, LuxProvide and DataThings are here to lead the way.